Article Courtesy of Kristen Heller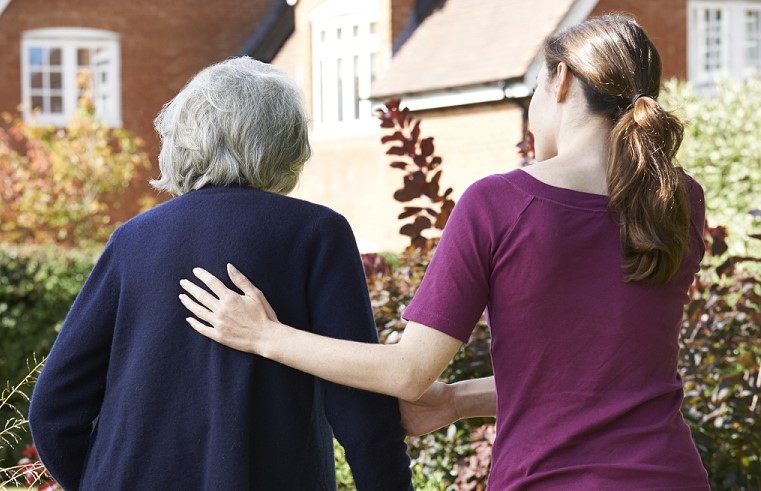 Taking care of a loved one is a job that is not to be taken lightly. For some, caring for their aging parents is an honor; while others may see the responsibility as a burden on their adult lives. This responsibility can come on quickly due to an accident or injury; but in many cases, caregiving can come on gradually as parents become less mobile and dependent on other people. If you find yourself spending more and more time caring for your aging parents and believe that full-time care is just around the corner, here are some ways to help you transition from part-time to full-time caregiver so that you can make the most of your time with your parents.
Review Your Routine
While your current caregiving situation might mean that you "pop in" to see mom or dad on the weekends, clean the house, and prepare some meals for the week, you might want to start adding additional time here and there. Rather than thrust yourself into a full-time caregiver, allow yourself some time to acclimatize to the changes that are coming and start slow. Start dropping in to see your parents a few times a week, spread out throughout the week. Change it up a bit with drop-ins at breakfast, lunch, or dinner, weekdays and weekends. This way, you'll start creating space in your schedule for a new routine down the road.
Put Some Money Away
Taking care of a loved one is time consuming – it is time away from your job and perhaps even your own family. Because caring for a parent can quickly become a full-time job even before you intended it to be that way, it's a good idea to start putting some money away now to help you cover your cost of living when you transition from part-time caregiver to a full-time caregiver. This is especially important if you parents don't have savings or if they have no real means of paying for care to see them into their late years. However, if you do your homework before taking on the role of caregiver, you'll find many programs, such as CDPAP, which are designed to help cover the cost of caregiving for seniors. You can get paid as a full-time caregiver with programs like this, so it's best to research them early on in preparation for full-time care.
Keep Something for Yourself
If you find yourself having to give up your part-time or full-time job to start caring for your aging parents or family members, it is important to ensure that you continue to maintain some form of self-care so that you can stay healthy. After all, you cannot care for someone if you are sick. It's important to remember to take time for your life. Make time to have coffee with friends, even if it's just once a week. This way you'll have a routine of your own and will be able to step outside the house to get breaks when you need them. Create a morning and bedtime routine for yourself that allows you some time to focus on your needs so that you can provide full-time care for your family when the time comes.
Plan for Backup
Despite your best intentions to provide full-time care for your aging parents, you will need some backup from time to time. For instance, you need to buy groceries, run errands, get a haircut, visit friends, go to your own doctor's appointments, and so on. So it will be a good idea to speak to other family members, or maybe even neighbors to ensure that when you can't be there, or you need a much-needed break. Speak with them about routines, schedules, and times when you might need a day off. You may need to offer payment to some people when they fill in for you so be sure to plan for that as well.
Start Slowly
When it comes time to make the move from part-time to full-time caregiver, gradually increase the number of days you spend a week looking after your loved one. Give yourself plenty of lead time to be able to take on the full-time responsibility. As for your existing job, you may be able to take leave in order to care for your parents, so be sure to discuss it with your employer and give plenty of notice to cover for your position while you are away.
Kristen Heller is a passionate writer, teacher, and mother to a wonderful son. When free time presents itself, you can find her tackling her lifelong goal of learning the piano.