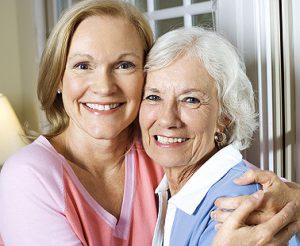 Mother's Day is about honoring and celebrating mothers.  When you have an elderly mother or grandmother with Dementia or Alzheimer's Disease, Mother's Day shouldn't just be about purchasing and dropping off a gift; but rather creating lasting memories that you can remember and cherish with your mother.  Elder Depot wanted to share our list of simple, easy things that you can do to bring some happiness to your mother's life on this special day and create a wonderful memory.  The good news is that most of these suggestions are free and only require sharing a little of your time!
Activities can vary depending on the stage of Alzheimer's, so we tried to create a variety of common and simple things that you can both enjoy.  The most important thing to remember is that you will one day cherish and be thankful for all of the moments that you spent with your mother – taking the time to show you cared.
10 Things To Do on Mother's Day
Have lunch or dinner together.
If mom is in a nursing or assisted living home and unable to leave, cook up a quick meal or pick up a pre-made meal and sit with her while eating so you can enjoy the moment together
Celebrate as if it were her birthday.
Put a single candle in a cupcake or piece of cake and sing her "Happy Mother's Day"
Take a walk or sit outside together.
If the weather permits, bring your mom outside for a walk or just some fresh air and sunshine (Vitamin D) and bring up some old memories! If mom is in a facility and physically able, ask to borrow a wheelchair or transport chair to wheel her outside for a short time.
Have an old fashioned beauty day.
How about a nice pedicure! Paint mom's nails or put some curls in her hair and show her how good she looks in the mirror!
Look over some old photos.
Conjure up some memories of familiar faces or times by showing an old photo album or memorable photos. Maybe even do a little Scrapbooking.
Sing some old church hymns or familiar songs.
If your singing skills are not up to the task, listen to some old familiar tunes together. Encourage mom to sing along and you might get a surprising response!
Put together a simple puzzle.
Puzzles with larger pieces are easier to see and handle and those with brighter colors may draw more interest.
Bring the family dog for a visit.
If your family dog is friendly and calm enough for mom to be comfortable around, bring the dog over for some one-on-one contact. If mom is in a facility that will not allow pets, see if you can take the dog to her in the lobby or bring your mom outside to spend some time with the dog – animals can be very therapeutic!
Watch an old movie together.
Pop in an old favorite movie, like the Sound of Music!
Enjoy some gardening.
If your mom used to enjoy gardening, let her sit outside with you and watch you do some of the gardening. If she is in a facility or this is not possible, bring in some flowers from your garden and cut the stems and organize the vase with your mom and she'll have a beautiful home-made bouquet.
We hope this list provides you with some useful suggestions to make your Mother's Day special. The most important thing to remember is to spend some quality time with your mother on Mother's Day. Its not about the best gifts, but about the memories you will have for years to come.
From all of us at Elder Depot, we wish you and your family a very Happy Mother's Day!
We welcome your Comments or Suggestions for future articles! Please email us by Clicking Here.